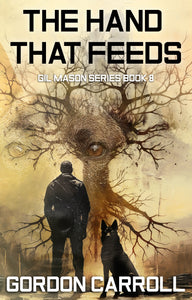 Gil, Max, and Pilgrim face a daunting challenge when Gil's former Marine Master Sergeant, Kirk "Pappy" Sinclair (the only man Gil has ever feared), arrives and tasks them with finding the wife and child of a wounded Marine. Gil's investigation leads them to a secluded mountain town dominated by a charismatic cult leader who wields god-like authority over his followers. Meanwhile, Max grapples with his resurfacing alpha instincts now that he's a new father.
 As they delve deeper into the mystery, Gil and his K9 companions confront a global organization with its own formidable police force, political influence, and seemingly limitless resources. Can Gil rescue the mother and child while Max battles his inner struggles and an aging Pilgrim fights to save a child and survive the freezing temperatures of a Colorado blizzard?
 Dive into the thrilling world of "The Hand That Feeds" and find out.